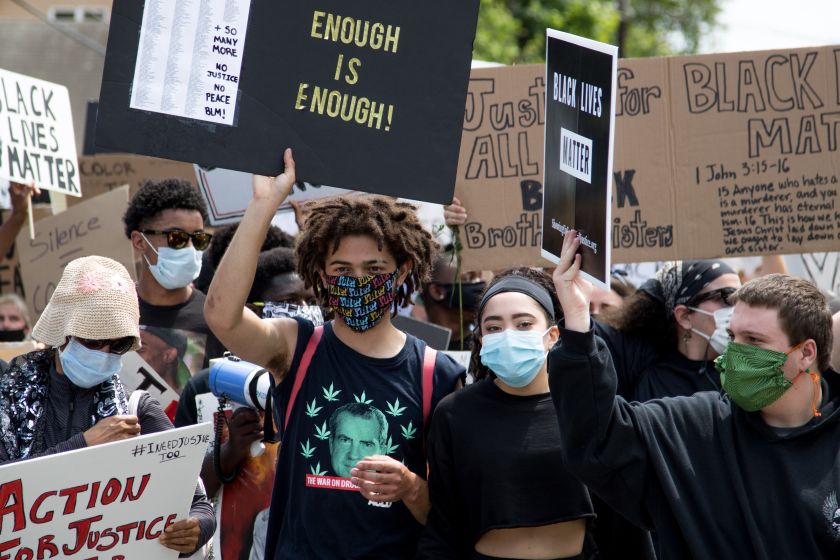 In only seven weeks' time, voters will cast their ballots in the U.S. presidential election and predictably, the public discourse seems to be growing more combative as Election Day draws nearer. COVID-19 and the government's reaction to the pandemic remains a central question, particularly around who's to blame for the disproportionate number of cases and the lockdown's economic implications. And yet, new data from the Development Engagement Lab reveals that Republicans and Democrats agree on a surprising number of issues around COVID-19, namely who has been most impacted, the wider vulnerabilities uncovered by the pandemic, and even how the U.S. should tackle the crisis.
The role of international cooperation
In a DEL survey conducted in June, 84 percent of Democrats and 55 percent of Republicans agreed: The COVID-19 pandemic has shown that international cooperation is more important than ever. While the consensus isn't overwhelming, given the current president's disdain for multilateral organisations like the World Health Organisation, we were somewhat surprised to see the majority of Trump's base pushing for greater collaboration on the world stage. We've also found a similar trend in Germany and Great Britain, with majorities in both countries – across political parties – agreeing that an international approach to tackling the crisis is essential.
A shared economic threat
Both Republicans and Democrats are feeling the impacts of the shrinking U.S. economy. New unemployment claims in the United States spiked to 1.1 million on 15 August, the most since COVID-19 deaths peaked in mid-April. Even short-term economic relief is uncertain for millions of Americans. Regardless of what divides Democrats and Republicans, a looming recession and the long-term impacts of the COVID-19-induced economic crisis, are foremost in the American public's mind. In fact, when we asked U.S. respondents in July to rank global issues based on their level of personal concern, the majority of U.S. respondents ranked "Economic crises, job security and wages" first.
In the same survey, we asked respondents to specify the degree of threat posed by COVID-19 to themselves personally, as well as to their family, community, job, country, developing countries, and the world. Again, surprisingly, Republicans and Democrats found themselves on common ground: Both perceived about the same level of threat to their jobs (32 percent for Democrats, 24% for Republicans), ranking this concern after "Your family" and "Your local community."
Perhaps more surprisingly, Republicans and Democrats also agree about which segment faces the greatest level of risk as a result of the COVID-19 pandemic: developing countries. 82 percent of Democrats and 58 percent of Republicans highlighted this group, and in the case of Republicans the margin was wide: "The World" came only in a distant second, at 44 percent. Both agreed – though again staking out opposite sides of the room – that developing countries are in greater danger than any other category.
Vulnerability
Strangely, this bipartisan perceived threat to developing countries bears out in another question in the survey, in which we asked respondents the extent to which they agreed with these three statements:
Once again, the two main U.S. political parties find themselves in agreement, particularly when it comes to the statement, "The COVID-19 pandemic shows how vulnerable all countries are to global problems."
Leading the charge
Finally, in a similar exercise, the message, "The U.S. should lead the world in developing vaccinations, treatments and testing to help tackle coronavirus," resonated well with both Democrats and Republicans. Whereas respondents in Germany and Great Britain favoured messages that described a more balanced division of labour in the fight against COVID-19, U.S. respondents of all political stripes would like to see their country out front, and for the Democrats at least, are clearly willing to compromise a more collective message for one that positions the U.S. as a leader.
An opportunity to engage
Is this preference for leading the charge a distinctly American trait? When it comes to COVID-19, it seems the answer is yes. Similar questions posed to respondents in France, Germany and Great Britain yielded a far more collective, 'do our bit' attitude. Why? It could be that the pandemic has created the perfect conditions for a particularly virulent strain of American exceptionalism, fueled perhaps as the U.S. administration continues to drive a retreat from other forms of world leadership. The implications of such unearned confidence in the context of COVID-19 could be dire. Still, it's important to note where the stereotypes end: reasonable approaches exist that appeal to most Americans, regardless of polemics.
With such hidden alignments at the centre of an otherwise fractured political discourse, it's clear that the 2020 presidential elections will be unlike any other. Yet a perennial truth about the electoral process holds fast: The public are likely to be more engaged in the run-up to an election, if only by virtue of the special turbulence of our current political climate. With that engagement comes an opportunity to draw out these hidden alignments, to make a new case to the public and identify certain kinds of habitual antagonisms for what they are: unsung consensus.