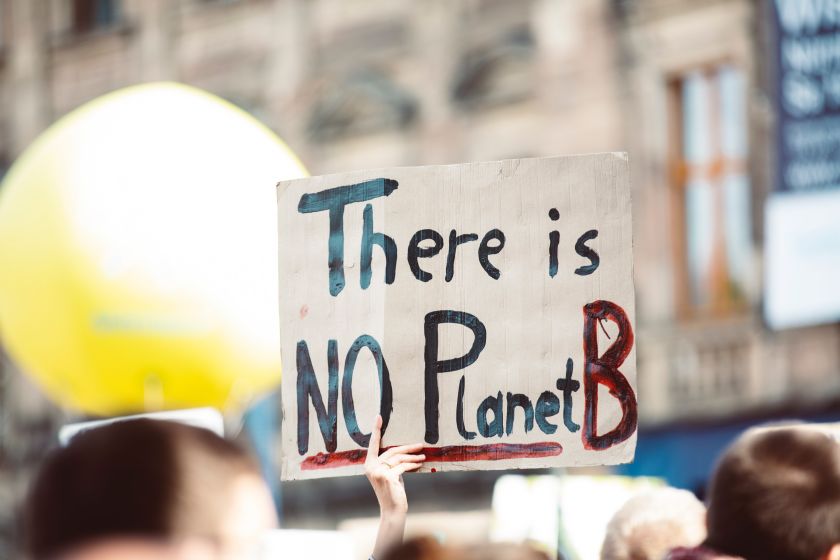 This blog was originally published on the Bond for International Development website on 10 November 2021
Most people believe it's the responsibility of governments, rather than individuals, to act on climate change. The Development Engagement Lab (DEL) has found that this belief is overwhelmingly prevalent, based on a nationally representative survey conducted through YouGov in Great Britain, France, Germany and the United States.
The survey was carried out from September to October 2021, and revealed a range of unprecedented insights into public attitudes toward climate change ahead of Cop26. Through a sample of at least 5,000 adults in each country, we found that awareness and understanding of the Cop26 conference was low. We also found that less than half the public, across all countries, knew the meaning of the 'net zero' target. Despite this, the survey shows that the public still have a strong concern and interest in climate change, as well as its impacts and solutions. This demonstrates that organisations are by no means starting from scratch, and can play a key role in spurring further awareness and action.
Beyond personal responsibility
While digging into the public's view on personal vs. government responsibility, we found that 49% of people in Great Britain say they believe government should do more to tackle climate change, compared with 45% in Germany and 44% in France. The US is an outlier, with only 33% saying they believe it's the government's responsibility to take action on climate change. In all countries, this group vastly outnumbers people who say they (personally) feel a responsibility to tackle climate change (9% in Great Britain, 11% in Germany, 13% in France, and 10% in the US). It also outnumbers those who say 'people in general' should do more to tackle climate change (24% in Great Britain, 22% in Germany, 26% in France, and 20% in the US).
The public's belief that individual action can do little to affect climate change compliments a 2017 report from the Carbon Disclosures Project. This report found that 100 corporations alone are responsible for approximately 71% of greenhouse gas emissions. While suggesting that individual action might be less impactful than originally thought, the findings spurred calls for greater national and supra-national regulation. We didn't ask about corporate action in our survey, but it begs the question: are the public beginning to shift the blame to governments, corporations, and specifically a lack of adequate regulation and corporate environmental responsibility?
Low awareness doesn't mean indifference
Although awareness of the net zero target and the Cop26 conference in Glasgow is generally low, our survey found that the public aren't necessarily tuned out from the climate crisis. When given a list of topics to be discussed at the conference and asked which they would prioritise, respondents, almost across the board (France, Germany and Great Britain), agreed on the following as their top three:
• Curtailing deforestation and forest degradation.
• Protecting and restoring ecosystems to boost climate resilience.
• And finalising a set of rules to make the Paris Agreement operational.
The exception was the United States, where the public favoured:
• Protecting and restoring ecosystems to boost climate resilience.
• Encouraging investments in renewable energies.
• And finalising a set of rules to make the Paris Agreement operational.
Likewise, when offered a list of climate impacts and asked which, in their opinion, is the most pressing, the public demonstrated an important trend in climate change perception: urgency matters, whether its media coverage of climate-related disasters or personal experience.
In all countries, the public pointed to food and water shortages as the most urgent impact of climate change. France, Great Britain and the US said loss of biodiversity and wildlife is second-most important, while Germany chose flooding in low-lying and coastal regions. In third place, France and Germany chose flooding, while the US chose impacts related to human health.
What does this mean for organisations? It's clear that when making the case to the public for climate action, using Cop26 or specific supra-national targets as an entry point is likely a non-starter. A better bet is to open instead with the public's primary concerns, ie food and water shortages, biodiversity, and increased flooding. It's also clear that organisations cannot assume that the public have the requisite knowledge of terms. To ensure they have the information they need to participate in the conversation, organisations should take the opportunity to clarify definitions and terms, and to offer brief explanations.
The public still see the climate crisis as a (more) distant reality
As the chart below shows, it's hitting home for people that future generations are going to receive the brunt of the climate crisis. The public have also understood that climate impacts are likely to hit developing countries the hardest (according to climate modelling and assessments of infrastructure, and vulnerability). We've seen this in previous research as well. So in effect, our survey generally found that the further away from the individual, the greater the perceived impacts were. But the other side of this coin is persistent denial, which suggests that people are not ready to acknowledge the immediacy of the climate crisis for themselves as individuals. For them, the consequences of climate change are felt elsewhere and by others.
In summary, assuming that people don't care about climate change because they don't know much about Cop26 or the Paris Agreement is flawed thinking. Our research shows that people believe in the seriousness of climate change and its consequences. They also believe in the next steps, and particularly want to see government action on these issues.